JANUARY 14, 2020 IS JUST AROUND THE CORNER. ARE YOU READY?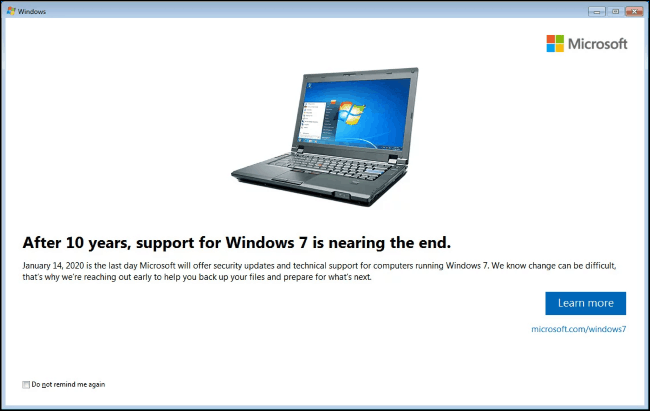 Microsoft made a 10-year commitment to support Windows 7 and Windows Server 2008 (R2 Service Pack 1 and Service Pack 2) when it was released in 2009, but the date is fast approaching that these products will no longer be supported.  As a result, software updates and technical assistance will no longer be available for these products, which puts your business and/or personal data at risk.  Customer service for Windows 7 and Windows Server 2008 technical support will come to a halt at midnight on January 14, 2020.
If you continue to use Windows 7 after that date, your computer will be more vulnerable to viruses and security risks because you will no longer receive software or security updates from Microsoft.
As a result, we strongly encourage and recommend that you move to Windows 10 before January 2020 so that you don't find yourself in a situation where you need support or service that is no longer available.
Upgrading to a modern operating system, like Windows 10, is the recommended path which provides you with the latest security updates and helps keep you and your data safer.
If you are running Windows 7 or Windows Server 2008, Think Tank NTG is here for you with a variety of strategic options to help you through your transition.